Simple and stylish outfit guides to 
MAKE STYLE EASY.
Shop our Outfit Guides to make getting dressed the easiest thing you do all day.
R

Feel confident + stylish
R

Easy outfits for any occasion
End the battle with your closet–for good.
Does it take too long to get dressed in the morning?

Do you have a closet full of clothes that don't pair well?

Are you wasting time and money on clothes you never wear?

Tired of second-guessing your outfit?
Feel Confident in Your Clothes Again
Imagine never having to wonder what you're going to wear. With our simple-to-follow outfit guides, you can assemble the pieces we recommend for effortless style. It's like meal planning for your closet!
Join the 100,000+ MEMBERS Who Have Discovered Confident Style
We know what it feels like to have a closet full of clothes, yet feel like nothing works.
That's why we created Outfit Formulas®. We've helped over 100,000 members feel confident in their clothing by empowering them with simple and stylish outfit guides fit for any body. "It's basically like meal plans for clothes, something I can totally get behind. I know from experience that I'll find fresh inspiration and be able to breath new life into what's already hanging in my closet."
Jessica Fisher
Blogger | Outfit Formulas® Member
"Now, over a year since I did the Outfit Formulas® program, I dress very differently and I find so much joy in putting together outfits. and I know what works for me and what doesn't. I never thought this would be possible, but it's true!"
Crystal Paine
Author | Outfit Formulas® Member
TAKE THE QUIZ
Need help picking the right outfit guide? Start with our quiz to find the guide tailored to match your needs.
Choose your outfit guide
We have guides to help you build your wardrobe from scratch or to add in fun seasonal trends.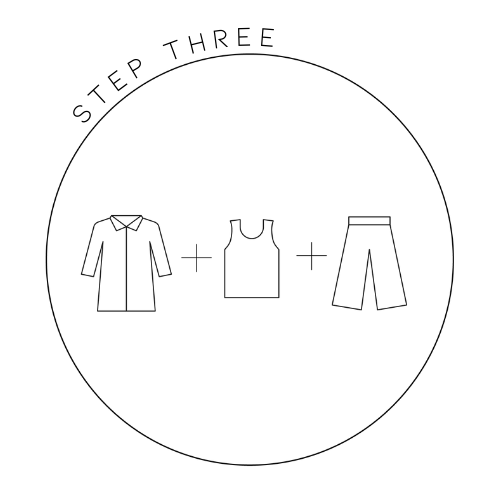 Follow The Guide
With our daily outfit pairings, you'll never be left in the dark with what to wear. Just follow the guide and finally feel confident in your clothes again.
Will Our Outfit Guides Work For You?
Absolutely! We created our outfit guides to work for any size, shape, season, age, and budget. Plus, we provide guidance in choosing the right pieces that compliment your personal style. We don't just pick what's trendy. We'll help you maximize your clothes and match outfits so you don't have to needlessly spend on clothes you might never wear. You'll feel as though you have a personal stylist in your corner guiding you to confident style every day.
What's In an Outfit Guide?
Stress-Free Shopping List
Is going shopping for clothes stressful? Don't worry, we made it easy. Inside the Outfit Guide, you'll get a printable shopping list and recommended links of all the classic pieces you need to create a versatile wardrobe.
Daily Outfit Pairings
Once you have your clothes in place, it's time to style them. With our daily outfit prompts, you'll know exactly how to pair your new clothes every day. What will you do with all your newfound time?
Style Calendar
Imagine having all your meals planned out for months. Now imagine that for your closet. That's exactly what's inside an Outfit Guide! Never spend time thinking about your wardrobe again.
Foundational Closet Pieces

Shopping List of 30+ Clothing Items for Year-Round Style and Online Directory

Daily Outfit Ideas for all Seasons

Exclusive Membership Site Access
Seasonal Trends + Alternate Colors

Shopping List & Online Directory

Daily Outfit Guide and Calendar

Private Community 

Exclusive Membership Site Access
2023 All-Access Pass
NOW AVAILABLE!
Access to 11+ Outfit Guides

Access to Future Seasonal Guides

Bonus Guides + More!

Exclusive Membership Site Access

One low monthly fee!
Not sure where to start?
Take our FREE quiz to get matched with the perfect Outfit Guide for you.