Wake up every morning knowing exactly what to wear. Discover a wardrobe that works for you, regardless of age or body type, without spending hundreds on new clothes.
Tame Your Closet and Reclaim Your Confidence
We help women look and feel their best without buying a bunch of clothes or dedicating a ton of time and energy to figuring it out alone. With Outfit Formulas, you can…
Build a wardrobe that makes you look and feel your best every single day

Eliminate decision fatigue with daily planned outfits (it's like meal-prepping but for your closet!)

Join our award-winning community for support and encouragement. Learn how thousands of women just like you are using our program to fit their lifestyle and closet!
Three simple steps to love the way you look.
Shop Your Closet
When you sign up, you'll receive a checklist of all the pieces you need to follow the outfit guides… Many of which you may already have! Before you buy a single thing, you'll shop your closet to find pieces you already have and love. 
Fill In Gaps
Once you check off all the items you already have, you can shop our helpful online directory or head to your favorite retailer to fill in the gaps with pieces you love. 
Look Great Every Day
As a member, you'll receive daily outfit recommendations and seasonal outfit guides that make getting dressed the easiest thing you do all day. You'll also join a member community that uplifts and encourages you so you feel as fabulous as you look. Reviews from real members: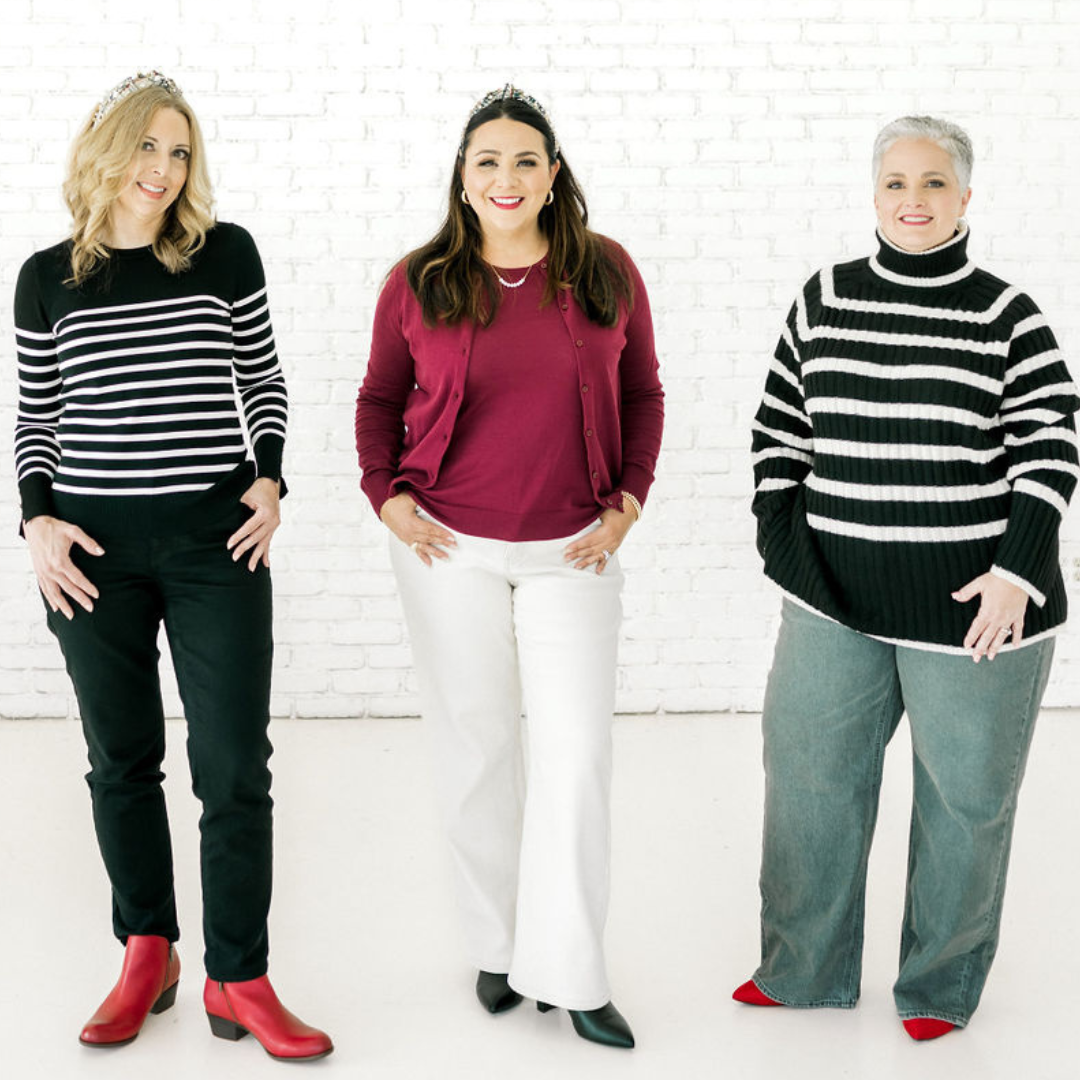 Save with the All Access Pass:
Get it all for one low price! Get endless outfit ideas and you'll never miss out on all the newest trends!
ALL ACCESS PASS
Monthly Subscription
2024 Seasonal Wardrobe Guides (as released throughout the year)

Beta test the new Outfit Formulas® App -- coming in early 2024!

Insider access to 2024 Seasonal Private Communities (as released)

2023 Seasonal Wardrobe Guides (instant access)

2023 Seasonal Alternate Color Palette Guides (instant access)

Bonus Guides: 5-Day Closet Cleanout Video Course, 21 Days of Leggings + more!

Membership Perks including Sneak Peeks + Exclusive Discount Offers

Slay At Home Casual Guide

Closet Staples Casual Outfit Guide

Work Wear Closet Staples Outfit Guide

Body Shape Outfit Guide

Color Analysis 101 Guide

French Minimalist Outfit Guide

Athleisure + Workout Outfit Guide

Define Your Personal Style Video Course

Menswear Closet Staples Outfit Guide

Access to ALL FUTURE releases
Ready to see it in action?
Take our free outfit quiz to get a custom-tailored Outfit Formula for whatever your day has in-store. You can join 100,000+ women just like you who have discovered confident style with us.
Take the quiz!
Frequently asked questions:
Will I have to spend a lot of money on clothes to make this work?
Outfit Formulas® encourages you to shop your closet first (saving you time and money) and then fill in any gaps at your favorite retailer. You'll be able to curate your wardrobe on any budget. Our members shop everywhere from thrift stores and Walmart to Nordstrom and Neiman Marcus. We are intentional about reusing closet staple pieces so after a few seasons of Outfit Formulas® you'll have most of your basics in place and just need to add in seasonal trends as you like.
Will this work for my age/size/body shape?
Outfit Formulas® are designed to work for everybody and every body! Our members include women of every age and stage of life. Most of our members are between the ages of 35-65 and range from size 0 to plus sizes, including petite and tall fit. We even provide links to shop for every fit and size on our membership site.
What if I don't like wearing [insert item]- so I can't do this?
Not a fan of skinny jeans, sleeveless tops, shorts, heels? No problem! Outfit Formulas® provide you with a formula to follow, rather than a specific article of clothing, which means you have the final say of the cut, style, and color for each and every item. You can follow our recommendations to a tee or get creative with your own unique style. The choice is yours.
Are all of these casual outfits or can I wear them for work too?
Most of our outfit guides are casual but include tips to dress the formulas up or down. Check out our Work Wear Closet Staples guide for more office appropriate attire HERE. 
How does this differ from Stitch Fix?
The main difference between Outfit Formulas® and Stitch Fix is we don't provide the clothes.  We give you all the tools you need to shop for and create your own wardrobe.  You get to choose the budget, shop at your favorite stores, and spend as much or as little as you want!  The program even works with Stitch Fix, some of the pieces you get in your monthly box may work in the daily outfits.
Feel confident in your clothes again.
Imagine never having to wonder what you're going to wear. With our simple-to-follow outfit guides, you can assemble the pieces we recommend for effortless style. It's like meal planning for your closet!